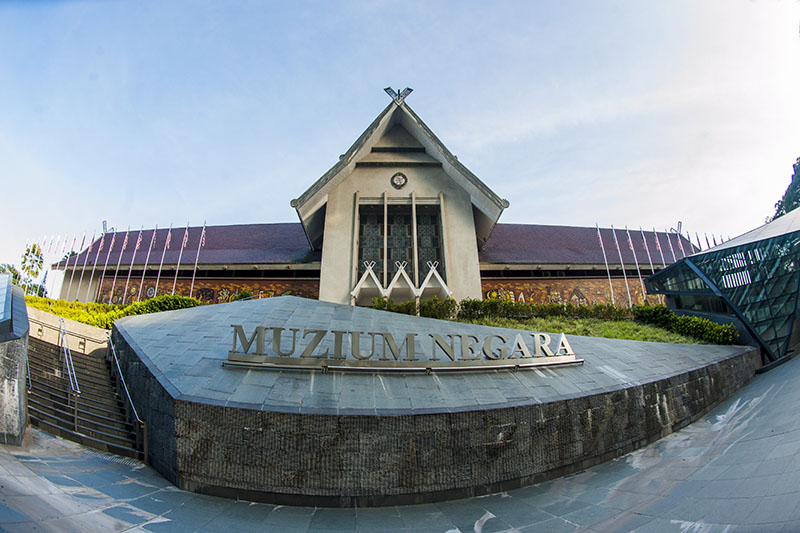 The idea to establish the National Museum was initiated by the first Prime Minister of Malaysia, Yang Teramat Mulia Tunku Abdul Rahman Putra Al-Haj. He thought that Malaya (at that time), needed a museum with a national identity to showcase the various aspects of culture, heritage and nature. Therefore, the site of the Selangor Museum building (1906-1945), which was almost destroyed by accident as a result of an Allied Air Force bombing attack on the 10th March 1945, was chosen as the site to build the National Museum. 
Construction of the National Museum began in 1959 and was completed in August 1963. The design of the building was done by the appointed architect, Mr. Ho Kok Hoe, based on the architectural characteristics of the palaces of Malay Kings. Unique for its time, the National Museum was the only government building that identifies with traditional Malay architecture. It is also unique not just for the architecture but also for the display of two murals made of Italian glass mosaic, which decorate the surface of the front walls. These murals display the historical storyline and handicrafts of Malaysia and were produced by Mr. Laitong Cheong, one of the famous artists in Malaysia. 
The third King, Seri Paduka Baginda Yang di-Pertuan Agong, Tuanku Syed Putra ibni Al-Marhum Syed Hassan Jamalullail graciously officiated the inauguration ceremony of the National Museum on the 31st August 1963. On the 11th of August 2015, the National Museum was given recognition as a National Heritage Building, under the National Heritage Act 2005.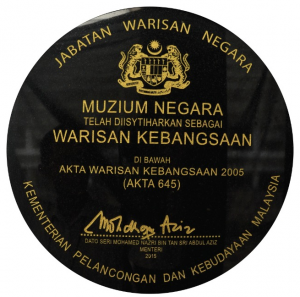 Plaque of the National Heritage Act 2005
Objective
The objectives of the National Museum are :
To carry out museum-related activities such as researching, collecting, recording and publishing all the treasures of the country's historical heritage;
Exhibiting and utilizing national historical heritage artifacts for community education towards identity building and national development, and;
Making it one of the country's tourism products.