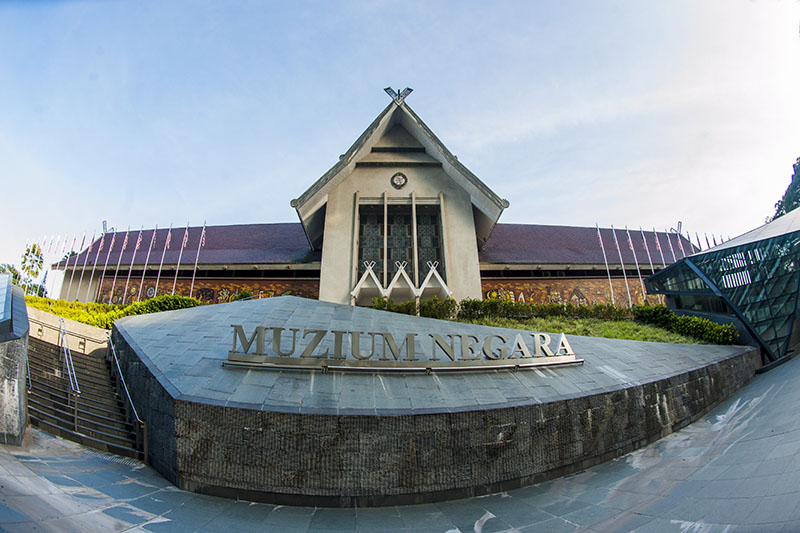 The idea of establishing the National Museum has initiated by the First Prime Minister of Malaysia Yang Teramat Mulia Tunku Abdul Rahman Putra Al-Haj. The present building has built on the site of the former Selangor Museum (1906-1945). During World War II, a part of the building was accidentally bombed by the Allied Forces on 10th March 1945. 
The construction of the museum began in 1959 and has completed in August 1963. It was officially declared opened by His Majesty, the Third Yang di-Petuan Agong, Tuanku Syed Putra Al-Haj Ibni Almarhum Syed Hassan Jamalullail. 
An architect named Ho Kok Hoe has made the design of the National Museum building by the architecture of the castle rulers and the local Malay community. The building is the first government building to use the features of traditional Malay architecture. The front wall has also decorated with two murals made of Italian mosaic glass that display a string of Malaysian history and handicrafts. 
The National Museum building was also gazette under the National Heritage Act 2005 on 11th August 2015. The historic ceremony has officiated by the then Minister of Tourism and Culture, YAB Datuk Seri Mohamed Nazri bin Tan Sri Abdul Aziz at Malaysian Museum Department Auditorium.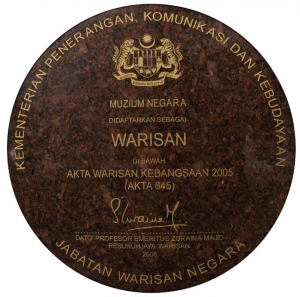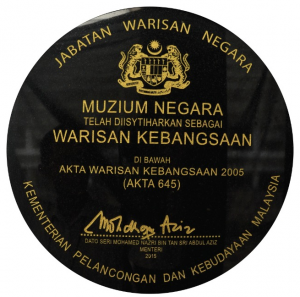 Plaque of the National Heritage Act 2005
Objective
The objectives of the National Museum are :
Carry out museum activities such as researching, collecting, recording and publishing all the treasures of the country's historical heritage;
Exhibiting and utilizing national historically heritage artefacts for community education towards identity building and national development, and;
Ensure the museum as one of the country's tourism product.